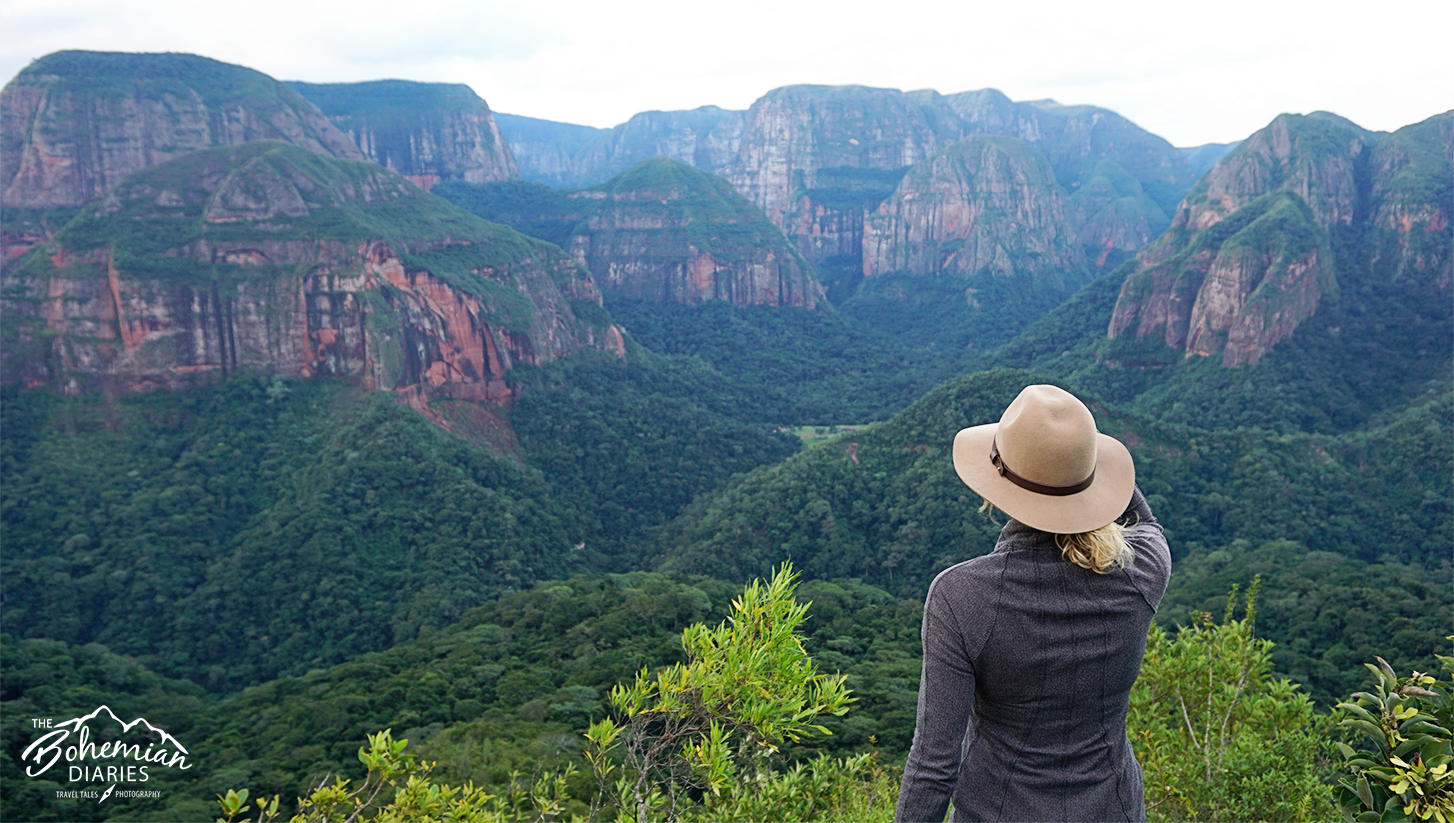 It's safe to say travel in Bolivia is not glamorous. Much of the same sensory language often used to describe the nation's diverse landscapes can also be applied to tourism and travel within the country: Primitive, unpredictable, remarkable, rough.
But for the majority of those journeying here to the heart of South America, that's the draw. It's undoubtedly a country for the adventurous- the no reservations and zero hesitations type. There's surprise at every turn, and despite it's challenges, Bolivia is every bit enthralling, alluring, and captivating.
Living in the synchronized chaos of Santa Cruz de la Sierra for five years (going on six!), I'm constantly in need of a change of pace. My bags are almost always packed, waiting to get out and explore rugged terrain, to stand alone surrounded only by nature, and to rediscover the beauty that this country possesses in every direction.
My favorite way to escape the city is with a weekend road trip.
In contrast to the stereotypical Bolivian image of snowcapped mountains and bowler hats reenforced year after year by guidebooks, the Bolivia that I know and love is hot. Here in the oriente , it's steamy, tropical, and wet. And over the years, I've come to learn there is so much more to see and do in this region of the country than is ever talked about.
So for years, literally years, I had been planning a trip to visit Refugio Los Volcanes , an eco resort bordering the nearby Amboro National Park . Our friends from local tour agency Nick's Adventures begged us to go on several occasions, but t he opportunity to go hadn't risen until one particular weekend in December, when my now-husband spontaneously packed the car for a little trip southwest. Little did I know, this would become one of the most significant weekends of my life.
Refugio Los Volcanes
The great thing about Refugio is that for us in Santa Cruz, the eco resort is close enough to home, far enough for a vacation. Just two hours from the city, it's the definition of a perfect weekend getaway: remote, off the grid, unknown, and most importantly, quiet. For those visiting Bolivia, it's a reason to head east and find serenity in an overlooked and underrated region of the country.
The Refugio experience begins well before arriving to the lodge—it really takes off around kilometer 40 on carreterra 7 , the road to Samaipata. As the road begins to wind further into the mountains, less of it becomes shareable between two lanes of traffic. Semi trucks, trufis , motorcyclists, buses, and dogs alike hug the shoulder of the tight gravel that lines massive walls of sandstone and overlook the Rio Piaraí (river Piray).
Abruptly about an hour into the drive, (just passing the colorfully marked volunteer hostal Ginger's Paradise) there is but a mere wooden sign that indicates a sharp turnoff in the tiny town of Bermejo where the climb to Refugio begins.
By the time we arrived at sunset, we were greeted with a breathtaking view of the valley, and it was love at first sight!
In typical Jessica fashion, I couldn't wait more than 10 minutes after arriving at the base of the lodge before asking for a guide to give us a tour of the trails. We set out for a quick, 40-minute hike to get a feel for the forest and stretch our legs before the sun completely set.
The property of Refugio Los Volcanes is located on the border of Amboro National Park , one of the most botanically rich nature reserves in the world. It is comprised of three ecosystems (the foothills of the Andes, the northern Chaco, and the Amazon Basin), and home to a wide range of unspoiled wildlife, floral and fauna. The park also boasts the greatest concentration of bird species in the world, and with a staggering 800 species, is home to 60% of the country's entire avian population!
I would have been happy with just this little adventure for the quick hike and views alone, but shortly after our arrival, this hidden paradise took hold of a very special place in my heart — it's where I got engaged!
Romantic Refugio
My fiancé-to-be could not have picked a better place to propose. Not only was this type of weekend adventure 100% "our style," it was also the most intimate and peaceful place to share such a meaningful moment. Seeing as neither of us had visited the lodge before, I tease that he took two gambles that weekend–hoping for a "yes" and hoping that the place would fit his plans!
It's not easy to surprise me, but after our hike he sure pulled of the most romantic evening of our seven years together incredibly well! With some preplanning help from our friends Nick and Carolina (Team Nick's Adventures), my husband worked with the staff to create a candlelit picnic dinner atop a waterfall! As dinnertime approached, we headed to the chalet where family-style meals are cooked and shared with the other guests, but was guided to a small path off to the side of the dining room.
From here a trail of candles led to our private dinner table accompanied by the Milky Way above us and cascading falls below us. A couple of bottles of wine later with a beautiful ring that nearly fell into the river, I became a señora-to-be and one step closer to becoming an honorary cambita through marriage!
The day after
The day following our engagement really is quite a blur! I was floating on cloud nine all morning that I hardly remember having breakfast at all!
I do remember lacing up my boots to set off to explore the other trails in the early morning (with my new fiancé!), and was in awe of the panoramic views and nature's pristine playground that we basically had to ourselves.
I really enjoyed the flexibility of the trails, and the fact that you can take the hikes at whatever pace you are most comfortable with. Despite the elevation changes and dramatic sandstone rock cliffs towering over you, the trails leisurely wind through the valley, surrounded by a tropical sanctuary of bromeliads, orchids, giant ferns, and a wall or two full of salamanders! The hikes are doable with kids, and I'm secretly so excited to bring my littles here one day!
And again, those views!
Let me tell you, I've been up and down and all across Bolivia only to find that one of the most spectacular and breathtaking landscapes has been a mere 90 minutes away from home the entire time. There is NOTHING like it.
One year later
To celebrate our first year of marriage, Jay and I returned to where our new chapter in life together began at Refugio. We recreated the second most special night of our lives with lunch in the very spot that Jay proposed, and this time with pizza!
Take a quick glance on Trip Advisor and you're sure to see guests raving on and on about Refugio's oven-baked pizzas. Seeing as we missed out on our first trip, we weren't leaving without finally having the chance to try one, and we managed to devour two within a matter of minutes! There is merit behind the reviews!
Go for the hikes, stay for the stars
On both occasions to Refugio Los Volcanes, I've been blown away by the canvas of constellations that paints the night sky. (Coming from the North Star State and having lived in the Hawaiian islands, that's saying something!) On the night we got engaged, my fiancé and I sat atop a waterfall admiring the Milky Way – can the notion of romantic get any better than that?! Stargazing from the hammocks at the lodge is more than mesmerizing, it's an unforgettable way to end a trip.
Book your stay
Refugio Los Volcanes has made major improvements to their booking system since our first visit last year, and their updated website makes it easier than ever to plan your visit . If you are hoping to spend more time exploring the Amboro National Park aside from the lodge, or are coming/going to the nearby town of Samaipata (which you most definitely should!), get in touch with the Australian/Bolivian team of Nick's Adventures to plan a tour that includes a night or two at Refugio in addition to other activities in the area!
We cannot thank the incredible team at Refugio Los Volcanes enough for being a part of our story and treating us so well during this sweet season of our lives. We will forever hold this sanctuary near and dear to us, and are delighted to know that every time we return, we will be welcomed as part of the Refugio family.
Salud to love, travel, and a life full of adventure!