Economic and community development in rural Peru through sustainable tourism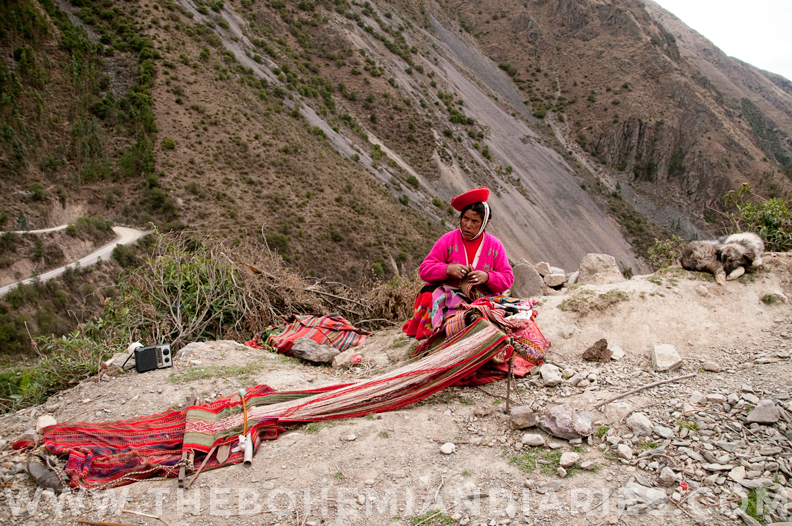 Patacancha is a cold, barren town perched high in the mountains of Peru's Sacred Valley of the Incas. Without the narrow dirt road hugging steep ridges and making its way from the nearby town of Ollantaytambo, it would remain an indigenous Peruvian village disconnected from the outside world.
In fact, until as little as fifty years ago the town lived as such, isolated and remote. The Spanish language was nearly nonexistent and until Peru's political strife penetrated the valley, so was national identity. It wasn't until a mere 30 to 40 years ago that a market economy was introduced to the village, connecting them to the 21st century and changing their way of life.
Still today very little Spanish is spoken. While the community continues to adhere to traditional Quechua practices, diligently tending to their fields and raising cattle, there is one major difference that sets them apart from their neighboring counterparts.
As tourism surrounding Machu Picchu took off in the 80s, so did the men of the households, finding work as porters and cooks on the trail while aiding treks to the iconic ruins and around the Valley. Leaving the women to tend to the livestock in addition to their responsibilities in the home left less and less time to keep up with traditional means of living and providing for their family, such as weaving as a way to clothe the family and keep warm.
These weavings, which once communicated societal status by the quality and intricacy of their work, quickly became replaced by commodities the dollar can buy, including used jeans and synthetic dyes for faster reproduction of artisanal goods to now be sold in markets.
While this story may resonate with many other villages, the aforementioned difference here is that tourism has recently began to directly benefit Patacancha through the rise and demand in voluntourism and community development.
Weaving into the Future
Awamaki , meaning hand-woven in Quechua, is a NGO located in Ollantaytambo (the departure point for Machu Picchu some 45 minutes below Patacancha) that connects families and the rural poor to sustainable economic opportunities through eco-tourism and local cooperatives.
Aside from their homestay programs, Quechua community visits and language classes, Awamaki heavily focuses on providing village women with the opportunity to connect with the global market while simultaneously preserving their traditional weaving practices, preventing it from becoming a lost art.
Their Women's Cooperative Program currently supports 60 women ranging in age from 15 to over 95-years-old, the largest of five co-ops throughout the Urubamba valley. Merging northern and southern culture, they are learning how to measure their traditional pieces for international clients and utilize new technology to maintain consistency with their dye and spooling process. These skills increase their access to market affording them with a reliable source of income. And, taking advantage of nearly a half a million tourists visiting Ollantaytambo yearly, the women also sell their products through a fair trade store that reinvests profits back into the community and perpetuates a sort of financial independence to better care for their families.
I recently witnessed firsthand the impact tourism has on community development and the success these women have earned by establishing a connection with the sustainable tourism industry.
Traveling extensively has also taught me that while national economies benefit from tourism, often the local communities are left without receiving any of the benefits and profits. In some cases, then, my positive intentions to interact with and understand the world do not always come with the most positive outcomes. If the village of Patacancha had not embraced local tourism, it's loss would not only be economic growth, but the loss of full family support as community members continued to work in the tourism industry of a larger scale outside their home.
That's why it is our responsibility as global citizens to seek out responsible tourism, pairing our travels with community development that allows us to give back what we take as travelers.
Next time you are traveling consider, how am I benefiting this community by being here and visiting? What action can I take to leave this place better than how I encountered it?
What has been your experience with sustainable tourism and community development?