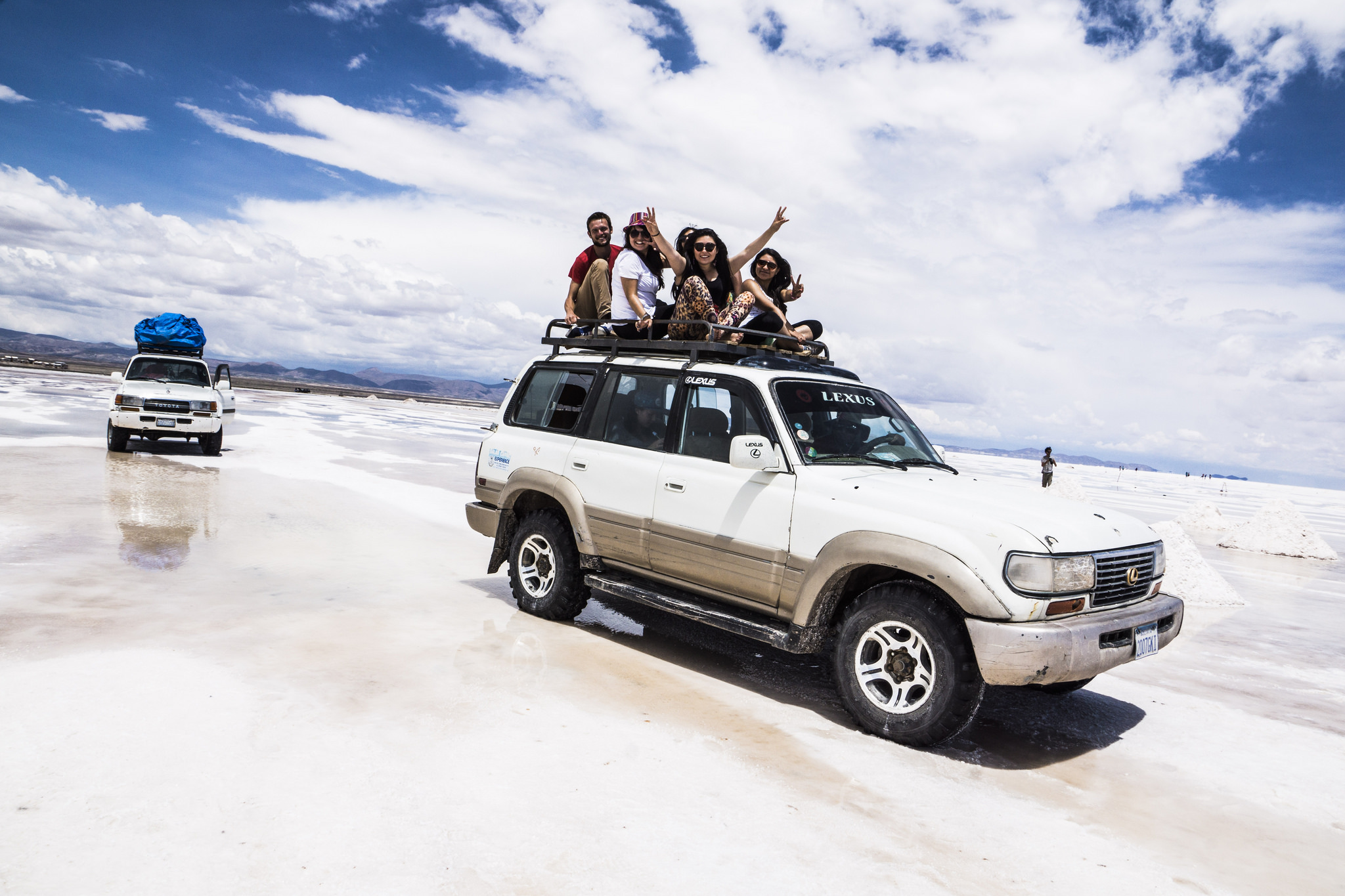 If you're the type of traveler who craves adventure and chases one extreme after another, Bolivia is the place for you!
The South American country is a giant, pristine playground for extreme sports and blood-pumping activities. Thrill-seekers will be taken to new heights and, if they so dare, experience terrifying speeds and unbelievable depths throughout the country's diverse terrain!
Lovers of cold climate action will delight in ascending the glacier climb of Huayna Potosí in the Andes, while those who prefer a splash of water can soak themselves rappelling down waterfalls in the humid jungles of Bolivia's lowlands.
However, you don't have to be restless by nature or the world's greatest daredevil to enjoy the excitement! If you're looking to merely inch out of your comfort zone and try something new, this is a great place to start! Many of the following activities are not only physical challenges, but mental ones that encourage you to break past any barriers holding you back from a new rush.
Up for the challenge? Gear up and get ready, here are 12 of the best adrenaline activities Bolivia has to offer:
Soar the skies paragliding
Catching a bird's-eye-view of Bolivia's magnificent landscapes is definitely a thrilling and unique way to get acquainted with the country. If you're looking for the ride of your life, paragliding over the immense salt flats of Salar de Uyuni is the place to start. Alternatively, flying over the world's highest capital in La Paz or above the valleys of Chuqiusaca just outside of Sucre (pictured above) can be a rewarding adventure in the sky.
Summit the peaks of the Cordillera Real
Fortunately, you don't have to be a professional mountaineer to make your way to the top of the breathtaking Cordillera Real . In fact, you don't even need any previous summit experience at all (although recommended) to reach the top of one of nearly 600 peaks over 5,000 meters here in the Bolivian Andes . The accessibility of this mountain range—which lies just a few hours' drive from La Paz—paired with relatively stable weather year-round makes it a great place for seasoned alpinists to challenge themselves on the face of giants (such as Illimani, Illampu, and Huayna Potosí) while novice climbers can equally enjoy the rush of a summit high above the clouds (especially on Pequeño Alpamayo, Janco Laya, and Condoriri). Check out this great resource for more climbing info.
Rappel waterfalls in Parque Amboro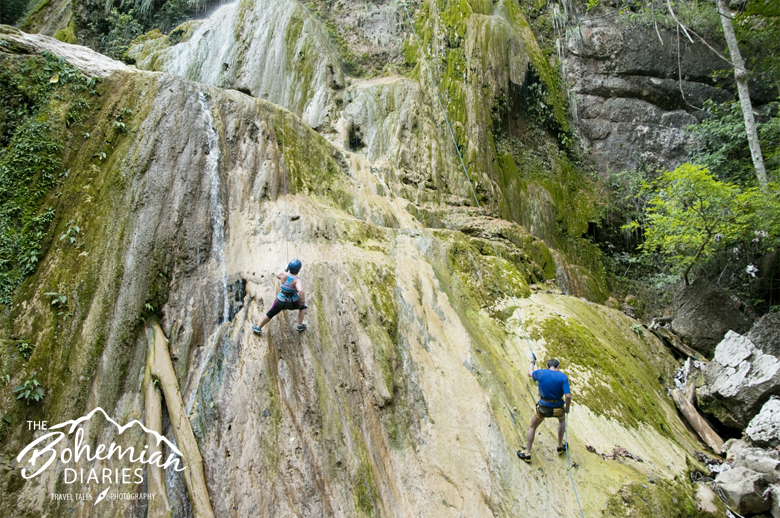 Drop into the tropics with a thrilling abseil through Bolivia's steamy lowlands. More commonly known as rappelling , this sport brings travelers face-to-face with the forests, streams and waterfalls of Amboro National Park, an impressive nature reserve spanning three ecosystems across the Orient. The drop off the falls of Jardin de las Delícias is a whopping 90 meters (300 feet) while the cascades of Alto Espejo (pictured above) gradually lower you down 60 meters (180 feet). It's a family friendly excursion and great activity for solo travelers looking for a thrill. Don't forget to look down, that's half the fun!
Navigate whitewater rapids in 'Rurre'
Nothing says adventure quite like navigating the spectacular rain forest of Madidi National Park via the wild rapids of Rio Tuichi! These class II-IV whitewater rapids cut through unspoiled scenery of Bolivia's largest national park and provide a unique opportunity to experience exotic jungle scenery and wildlife. Many tour agencies pair a two-day trek along ancient Inca trails to reach the rafting launch point (a few hours outside of La Paz) and end in Rurrenabaque , a popular ecotourism destination and the gateway to Bolivia's Amazon Basin. Off the 'Gringo Trail' near Cochabamba is another great spot for rafting in the lesser frequented town of Villa Tunari, another adrenaline-packed hot spot.
Rap jump off a 17-story building
Warning: This is activity is not for the faint of heart. It's easy enough to lose your breath merely walking in the extreme altitude of La Paz, but Urban Rush Bolivia is determined to take it a step further and leave you gasping for air as you leap from rooftop in downtown La Paz. Rap jumping , also referred to as "forward abseiling," is a rope-based activity that sends adrenaline junkies jumping and rappelling face-first down steep vertices and edifices — including skyscrapers! And with Urban Rush, you can get your fill of fun and fright all while dressed in a superhero costume! It's time to face your fears, think you can handle it?
Sandboard the dunes of Bolivia's tropics
This increasingly popular sport has dominated sandy slopes of coastlines and beaches, desertscapes and volcanoes all throughout Central and South America. But surely you didn't think one could find a place to strap on a board in the middle of the lush tropics, surrounded by forests and unbelievable wildlife, did you? The sand dunes of Las Lomas de Arena are part of  a unique, protected reserve that sees very few tourists but is home to over 280 bird species and unlimited thrills. For the brave souls who aren't afraid of wiping out at high speeds, this is a must-do in Santa Cruz de la Sierra .
Zip, swing and fall through the Amazon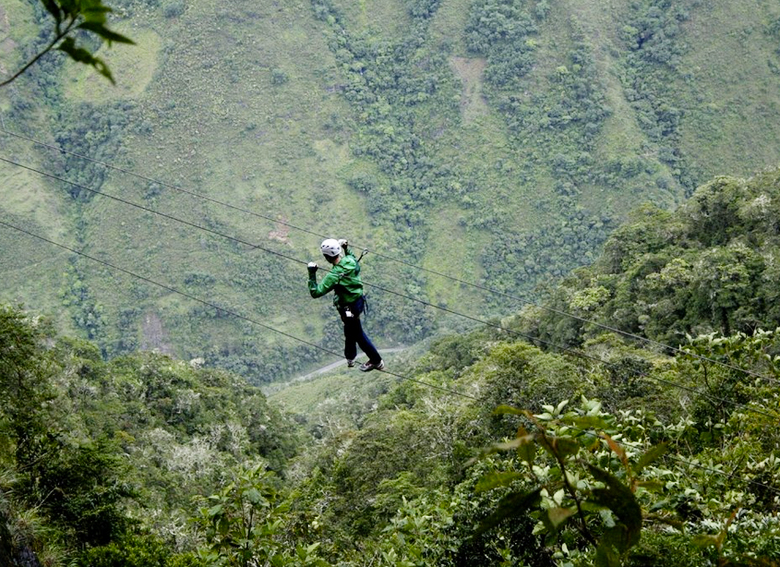 Zip-lining it the best cure to any adrenaline rush cravings as it combines the best of both worlds: speed and heights. But what if to get to the zip line you first had to drive along "Death Road," walk a tightrope over the forest canopy, rappel down a cliff, bungee jump from said cliff, and traverse a via ferrata (steel cable walkway on the face of a rock cliff or mountain) before reaching the zip line launch point?  That's the circuit over at Vertical Route , an aerial adventure park in the Amazon that delivers thrills from the moment their tour begins. Three words: I DARE YOU.
Cling to a cliff rock climbing in Sucre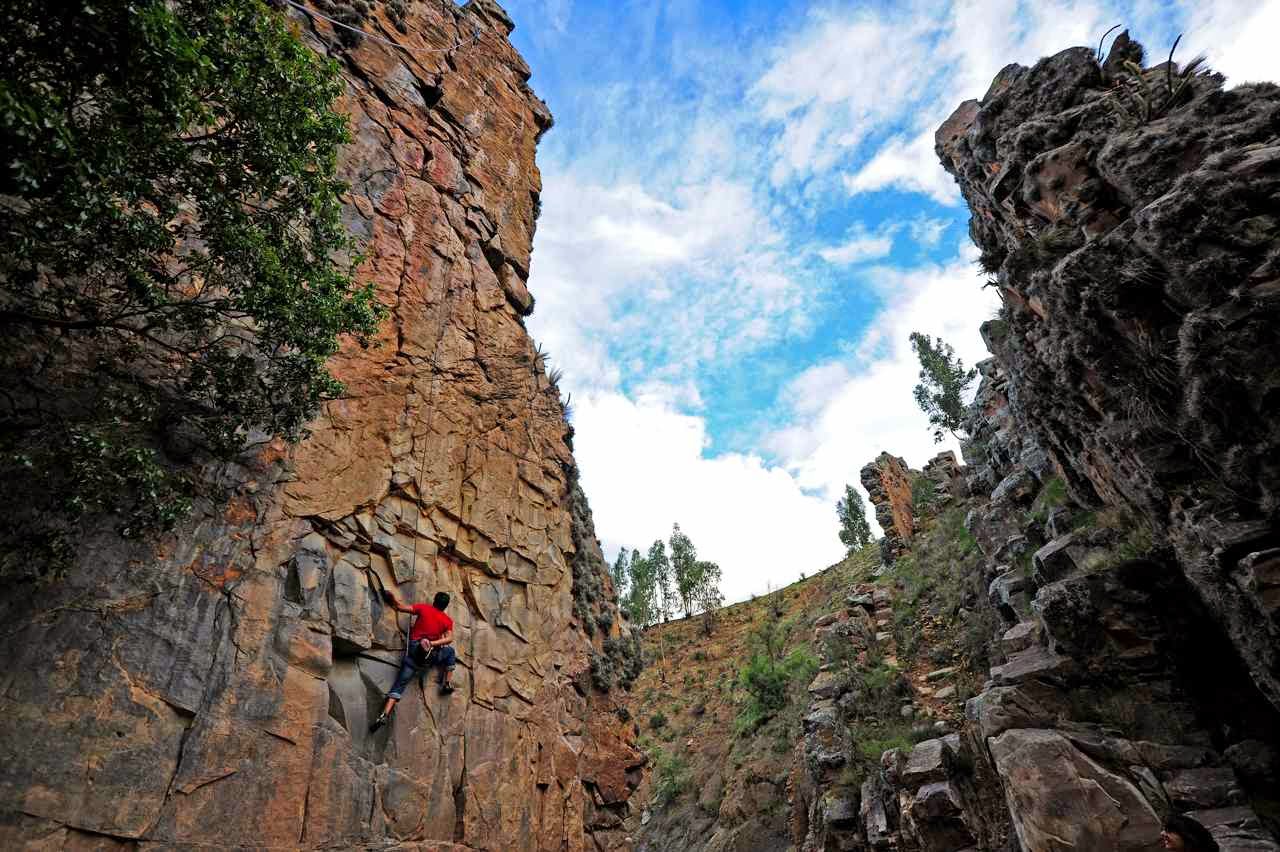 If the aforementioned Cordillera Real summits are a bit too extreme for your enjoyment (understandable, high altitude sickness is a real buzzkill), you can still reach new heights and test your physical and mental strength with rock climbing. Sucre has some of the best rock walls for climbing and with hundreds of routes with varying degrees of difficulty to explore, you'll never fall short of a new challenge. (Photo of climb route at La Resbaslosa outside of Sucre, Bolivia via Climbing Sucre .)
Pick your way to the top ice climbing
Take mountaineering to the extreme with the icy cold challenge of ice climbing in the Royal Range of the Andes. To sum up an expedition in one word, we would have to say: extreme. Hiking through the mountains in high altitude is tough, but tackling a climb via frozen snow trails and ice cascades is another beast. Most ice climbing expeditions are led privately (along separate climbing routes through the mountain range), although weather conditions varying from year to year may leave hikers with no choice but to pick their way to peak. is a good place to start researching your frozen adventure.
Kayak across Lake Titicaca
Standing on the shore of the world's highest navigable lake is a guaranteed trip highlight while in Bolivia. But imagine soaking in the view while cursing the crystalline waters said to be the birthplace of the Inca! Now we're talking. Most kayak tours of Lake Titicaca include stops at several islands (at a very slow pace), so kick it up a notch and induce the adrenaline by paddling 12 miles across the lake at your own pace. It's easier said than done when you're at an altitude of 12,555ft above sea level.
Trek Bolivia's back country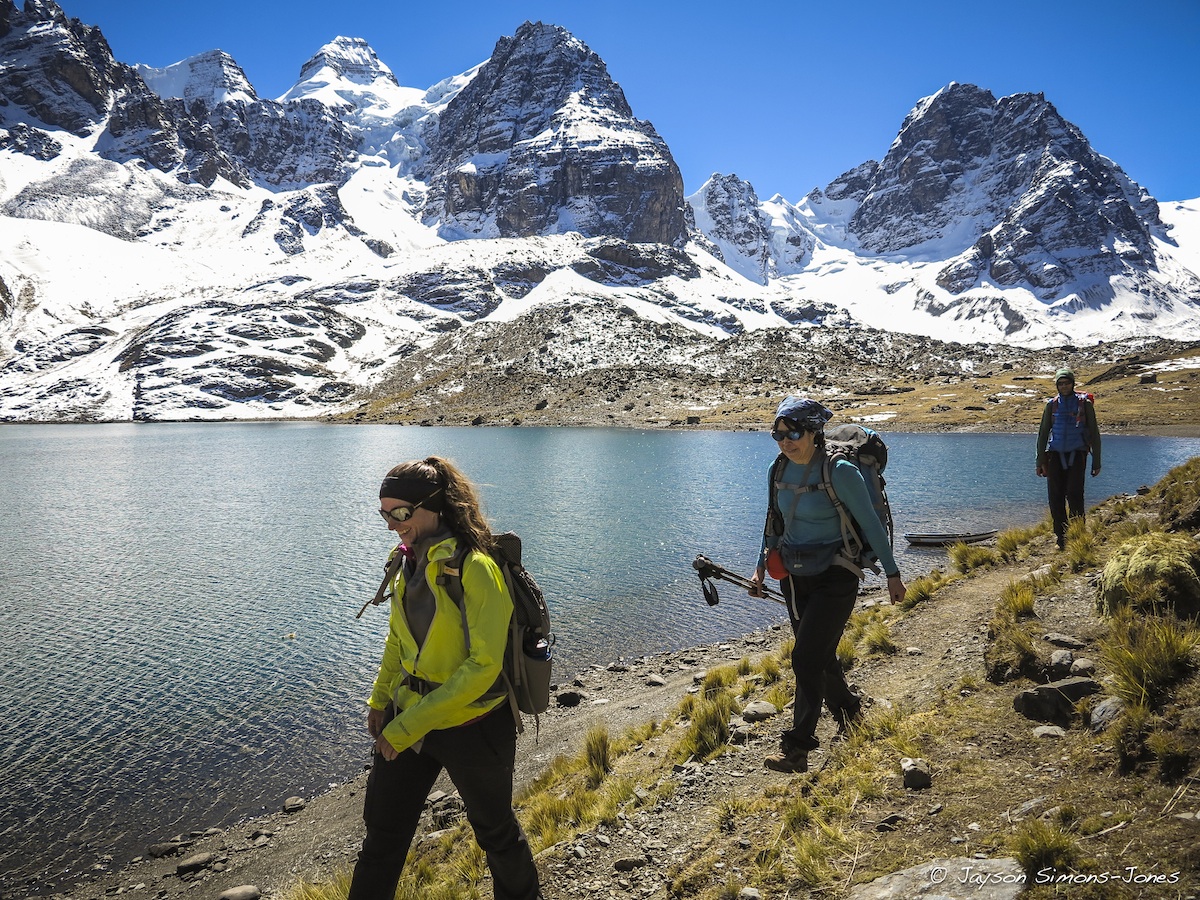 Bolivia's dramatic landscapes are one of the many things that make this country so exciting. But what takes trekking to a whole new level in this country is the uncharted territory that is left to discover. You can hike for days on end without running into anyone (aside from the occasional alpaca herds and rolls of armadillo) and you never have to worry about other tourists stepping on your toes, regardless the time of year. The panoramas are to die for, and if you are not afraid of getting lost every once in a while, this will be your new paradise.
Cycle the world's deadliest road
Aside from Salar de Uyuni, Bolivia's biggest draw by far is the (in)famous Yungas Road. Doesn't ring a bell? A quick Google search will reveal it's appropriate nickname, Death Road, as well as a hundred tips on "How to survive Death Road," or "5 Ways to Cheat Death Down the Yungas," et cetera, et cetera. As one of the world's most dangerous—and deadly—roads, thrill seekers and crazy adventurists can cycle down the 11,800 foot descent that starts in the snow-capped mountains of La Paz and ends in the lush jungle of Coroico. It's a frightening 45 miles as you whizz through waterfalls, zig-zag in single file and pass a sobering amount of roadside memorials and crosses.
Bonus: Crawl through the mines of Cerro Rico
If heights aren't your forte, feel the rush underground as you crawl through the 500-year-old mines of Cerro Rico in Potosí. It's a death trap for the workers (who pray to shrines of the devil for safety) and is certainly not for the claustrophobic. The mountain that once made Potosí the Paris of South America is now a dusty death-trap that takes an average of 170 lives per year. Tours of the mine are an incredible test of mental strength and courage to witness the hardship and physical torture endured by the local workers.
Which activity would be your first pick to get your heart racing in Bolivia? If you've crossed one or more off this list, show me a photo! Tag #BohemianDiaries to your adventure snap on Instagram or Facebook and I'll share the most daredevil acts!