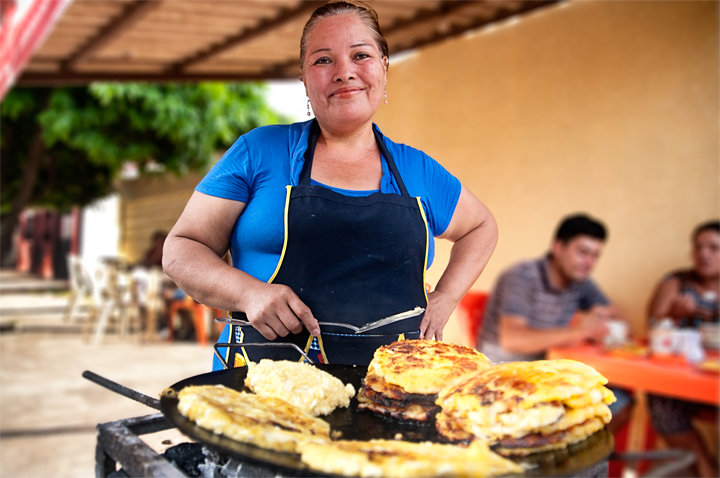 Meet Marta, AKA "the arepa queen." You'll find her on the corner of Barbery Avenue and Alcayá Street from 4-7pm everyday with spatula in hand and a grin from ear to ear. She is, after all, dishing up her daily dose of happiness and lucky for you, she's sharing with whoever's in the neighborhood.
A native of Santa Cruz de la Sierra, Marta's life took a curious turn when she visited her sister in the neighboring town of Cotoca 13 years ago.
"My sister was making areaps and I fell in LOVE [with them]," she gushes. In that moment, an entrepreneur was born.
Marta immediately knew that putting down her thread and needle to sell something she loved to make – and eat – would be the start of a better future, even if it wasn't easy.
"I was very, very nervous at the beginning," she recalls. "At first it was too expensive and with only one pan made of mud to cook with, people had to wait almost 15 minutes just to make an order. It was frustrating, but with much patience it got better and clients said it was the best part of their day. Patience paid off."
Still to this day, Marta continues to sell out before her closing hour of 7pm.
The secret to her success? An unfaltering love for the cheesy cornbread.
"I only sell what I like. I try every batch and if it's not perfect, I toss it and start over. I always maintain high quality."
While it's certain her afternoon snack has become a huge success, Marta's future plans may not be.
"My future isn't clear. I could continue for 13 more years but who knows? I don't think much about the future because I love where I am right now. Ohh! It's ready. Would you like an arepa?"
***
Conozca a Marta, también conocida como "la reina de la arepa." Se la puede encontrar en la esquina de Avenida Barbery y Calle Alcayá de las 4 a 7pm todos los días con una espátula en la mano y una gran sonrisa de oreja a oreja. Después de todo, ella está sirviendo su dosis diaria de la felicidad y la suerte para usted, que ella está compartiendo con el que hay en el barrio.
Nacido en Santa Cruz de la Sierra, la vida de Marta tomó un giro curioso cuando visitó a su hermana en el pueblo vecino de Cotoca hace 13 años.
"Mi hermana estaba cocinando arepas y yo me enamoré," ella brota. En ese momento, se nació un empresario.
Inmediatamente Marta supo que dejando su hilo y aguja para vender algo que amaba hacer – y comer – sería el comienzo de un futuro mejor, aunque no fue fácil.
"Yo estaba con muchos, muchos nervios cuando empecé," ella recuerda. "Al principio era demasiado caro y con una sola plancha hecho de barro para cocinar, la gente tuvo que esperar casi 15 minutos para hacer su pedido. Fue difícil, pero después ya con mucha paciencia y con las sugerencias de mi cliente, me dijeron que era su mejor parte de su día. La paciencia dio sus frutos."
Aún hasta ahora, ella siga vendiendo todo su lote antes de cerrar a las 7pm.
El secreto de su éxito? Un amor inquebrantable por el pán de maíz y queso.
"Solo vendo lo que me gusta. Probo todo lo que hago cada mañana y si no me gusta y no es perfecto, lo boto y empiezo de nuevo. Siempre mantengo alta calidad."
Mientras es bien cierto que su snack de la tarde se ha convertido en un gran éxito, los planes de su futuro ya no están tan seguros.
"No está claro el futuro. Puede ser que sigo 13 años más pero quién sabe? No pienso en el futuro mucho por que me encanta donde estoy ahora mismo. Ohh! Ya está. Queres una arepa?"
I Am Bolivia is a series building a photographic census of Bolivia through environmental portraits and short stories. All photos copyright Jessica Janoski Photography 2015, for inquiries contact Jessica at janoski.jessica@gmail.com